JONAH HILL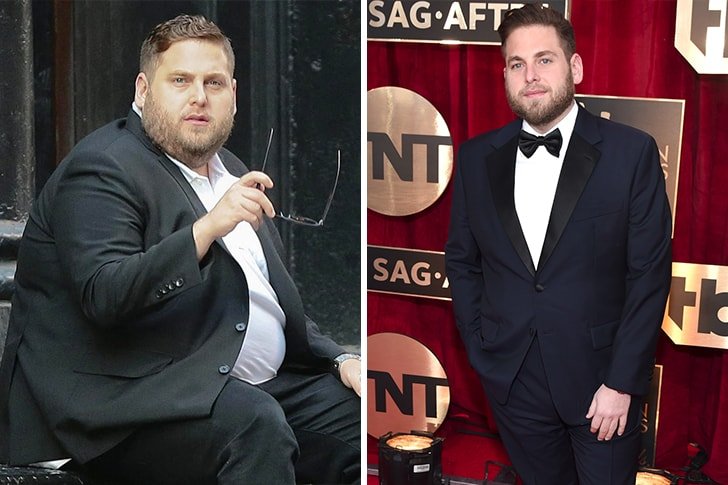 While filming Moneyball, Brad Pitt reportedly inspired Jonah Hill to live a healthier lifestyle. Because of Brad's advice, Jonah decided to start a strict weight loss program by regularly working out and changing his eating habits. Gradual and natural was the way he wanted to lose it.
As Jonah claimed, he also listened to what his close friend and co-star Channing Tatum had to say, and the result is truly fascinating. After playing in The Beach Bum in 2019 alongside Matthew McConaughey, Hill hasn't revealed what his next plans about acting are.
MARIAH CAREY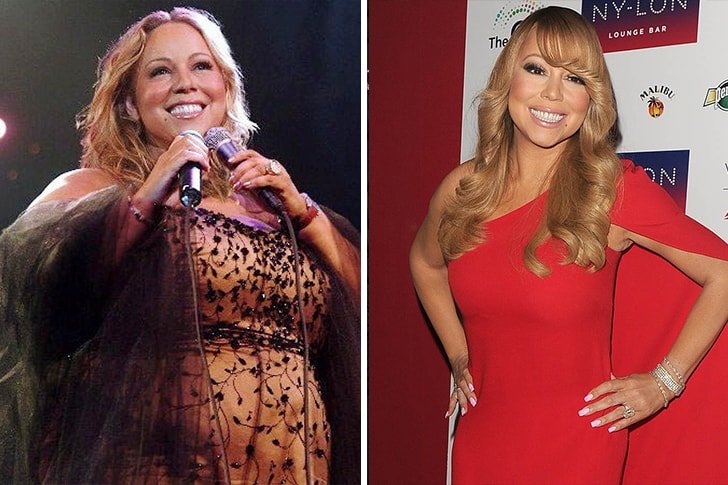 After giving birth to twins in 2011, Mariah Carey had a problem with her weight. It even went to the point that she was publicly criticized for her heavy frame, so she decided to get back in shape and silence all her haters.
She went on a strict regime that included working out daily and eating strictly non-fattening foods. Mariah was able to lose 45 pounds. You go, girl! Carey released her latest album Caution back in 2018. It was her studio record number fifteen, and we can't wait for her next material to be released.
TOM ARNOLD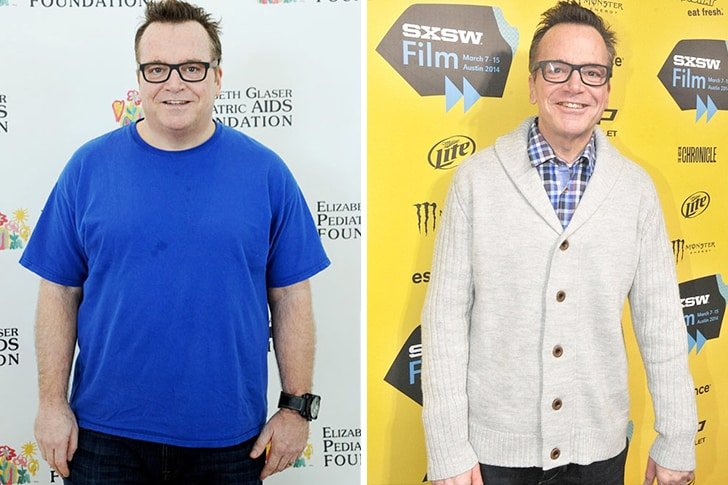 Tom Arnold had been a rather big guy, but after the birth of his son, he decided to switch to a healthier lifestyle. He didn't resort to any procedures to slim down. He got in shape the natural, healthy way by sweating it out and eating healthy food.
Arnold lost over 100 pounds and these days he's looking great. As he claimed, his son was the biggest inspiration behind his transformation, while he also suffered from sleep apnea. Such a condition can have immense repercussions on one's health, and he wasn't willing to take that risk.
CHAZ BONO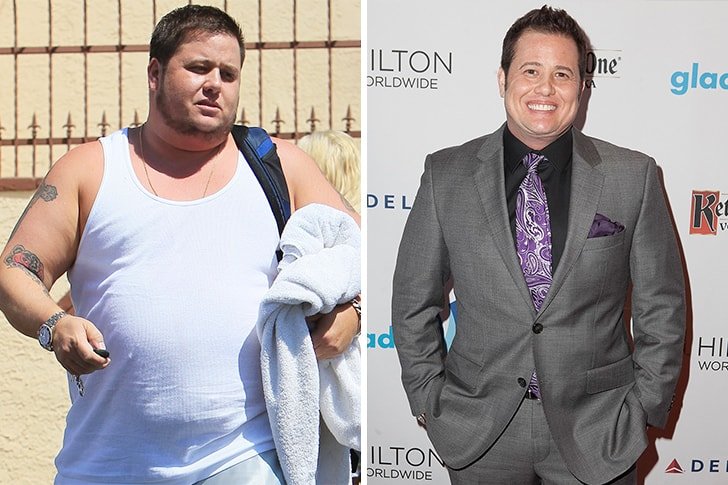 Chaz Bono is the son of the famous singer Cher and her late husband Sonny Bono. He had problems with his weight throughout most of his life, but after joining Dancing with the Stars, he realized he needed the change.
Throughout workouts for the reality competition and through a change in his lifestyle, Chaz was able to drop 85lbs. This was in 2011, and since then Chaz is looking better than ever. He is very actively advocating for the LGBT community, human rights, and various other causes. Chaz also sang backing vocals on some of the recent Cher's songs.
NICOLE "SNOOKI" POLIZZI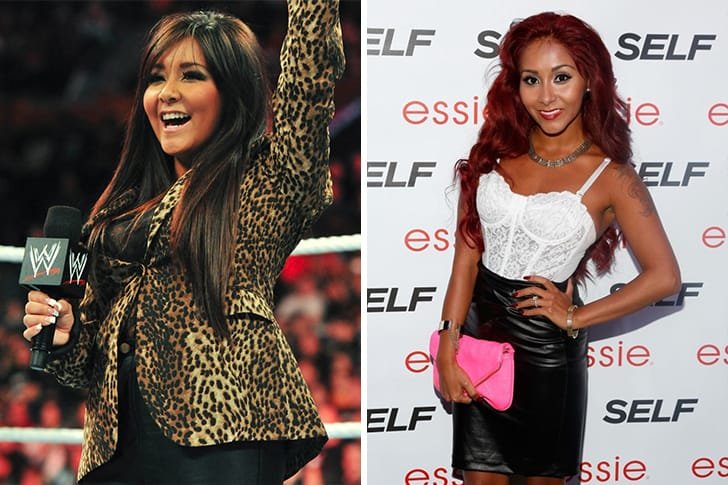 Nicole "Snooki" Polizzi was known for appearing on Jersey Shore, and she for being a party girl. After giving birth back in 2012, she decided to lose some weight and even hired herself a trainer. The change did her good, and Nicole was able to lose 42 pounds.
She did it all without the help of any procedures. Snooki has been married to Jionni LaValle since 2014. Now, she's not just a reality TV show star, but she's also the mother of three! In May 2019, Snooki and LaValle welcomed a boy.
MELISSA MCCARTHY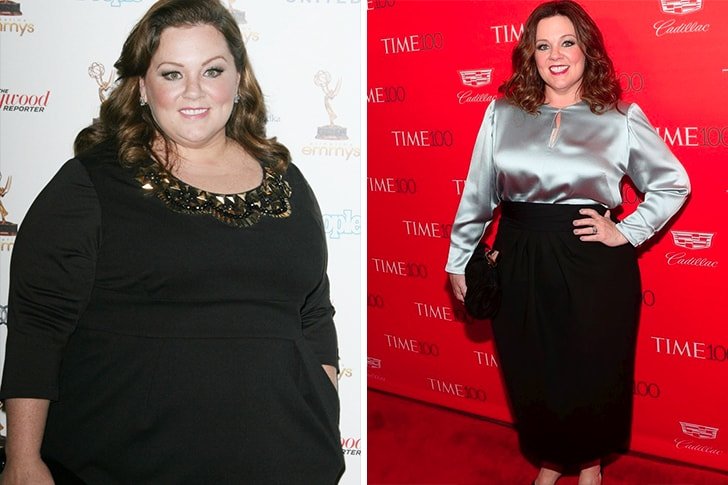 Melissa McCarthy is famous for acting high-spirited characters in films like Bridesmaids, Tammy, and The Heat. She always struggled with her weight. However, for her latest role, she has pulled out something her fans never imagined possible: the actress has succeeded to lose a blowing 75 lbs!
As it was reported, McCarthy had to follow a strict, low-carb diet, while she also had to sleep at 7:30 p.m. every day! In 2019, McCarthy starred in the film The Kitchen, while in 2020, she's expected to star in Superintelligence, a film where she also serves as an executive producer.
ADELE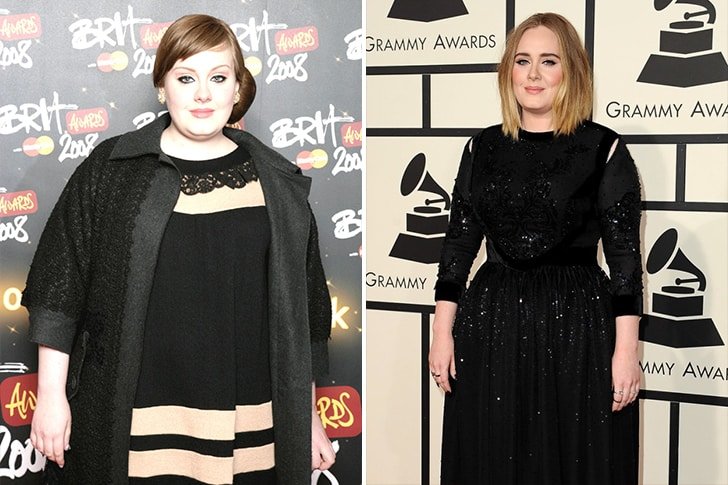 Adele has really hit the jackpot with a voice that can fill an entire room. Yet the singer always had insecurities about her weight. She didn't want to go to extreme measures like fasting or surgeries but opted for a steady and slow approach. She eats healthy foods according to an adapted diet program and exercises as much as she can with her busy schedule. And it clearly is paying off!
Apart from that, Adele revealed that she has been working on new material and we will be seeing her new album in late 2020. The album will be called 30, following the trend set by her previous studio albums and to be honest, we can't stand the wait!
ROSIE O'DONNELL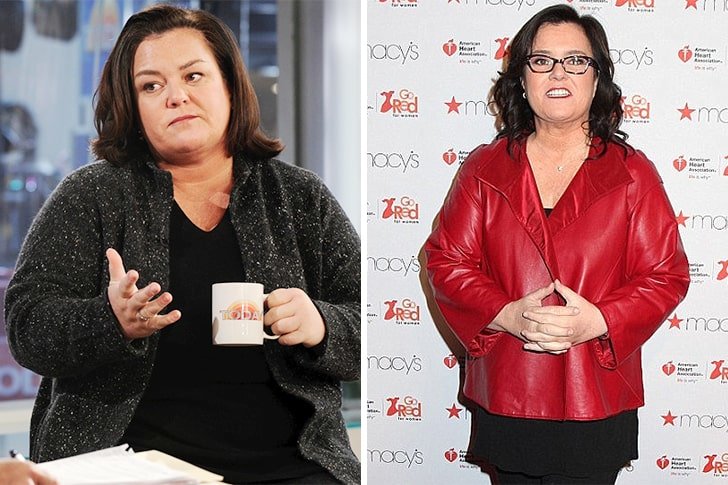 At one point, Rosie O'Donnell weighed as much as 240 pounds and almost died from a coronary. It was time to wake up and that's why she decided to undergo a gastric sleeve surgery. The procedure was done in July 2013, and after that, she managed to weigh 175 pounds.
Today, she looks much healthier and in shape than ever before. Looking good, Rosie. O'Donnell hasn't appeared in a film since 2009, but she's quite active in the TV industry. She's going star in an upcoming TV series titled I Know This Much Is True, while from 2017 to 2019 she appeared on SMILF.
JESSICA SIMPSON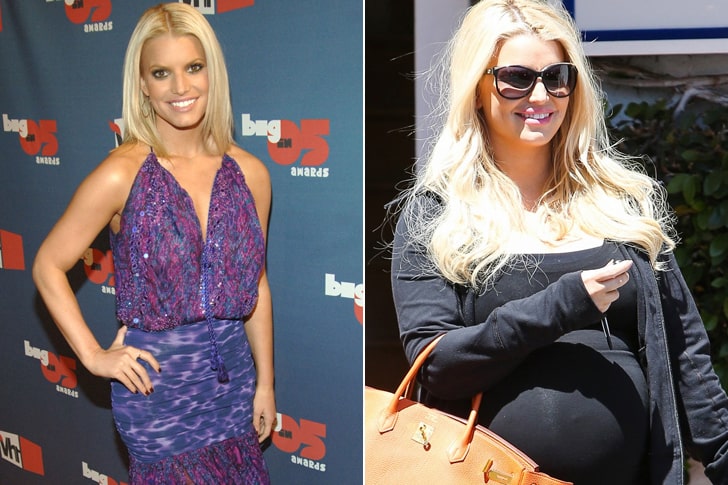 Having spent most of her life underneath the spotlight, Jessica Simpson now possesses a $225-million fortune. After all, every album she has released was more successful than the last one. Jessica and her husband, Eric Johnson, are parents to three children. She recently gave birth to their third one in May 2019. Even after everything her body's been through, she still looks amazing in the all-natural picture of her that she posted on her social media account. Not only has she managed to lose almost 100 pounds since giving birth, but she also looks incredibly happy and healthy!
KAT VON D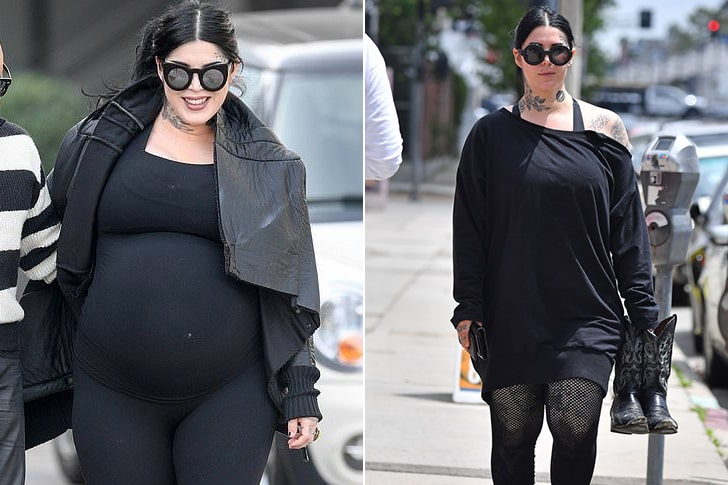 Being into modeling and working as a makeup artist, Kat Von D has always taken her physique seriously. However, after she gave birth to her son, she gained a lot of weight. She did not shy away from sharing her experience though, and through her social media accounts, she invited fans on her journey to getting back to 150-160 lbs.
According to Kat, after her child was born, she weighed around 220 pounds. With a lot to go up against, but she was able to return to her original figure. In 2019, she participated in an episode of the Anna Farris is Unqualified podcast.
STAR JONES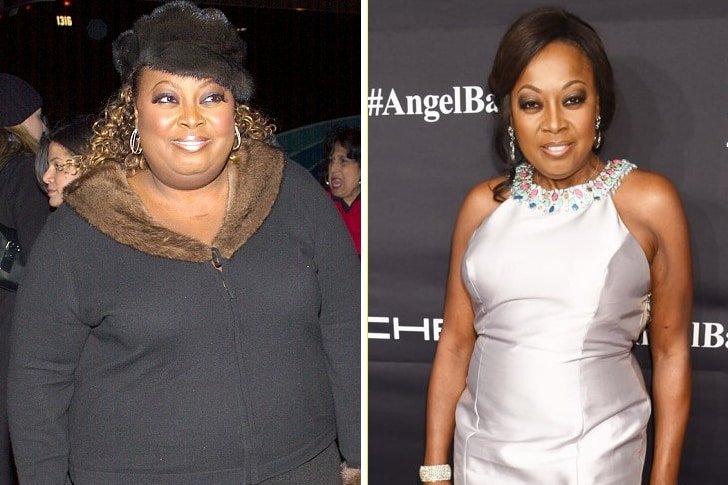 By 2003, Star Jones weighed over 300 pounds and was diagnosed as morbidly obese. With no options left, she underwent both the gastric sleeve and bypass surgeries within a short timeframe. The procedures were successful, and she was able to lose over 160 pounds.
These days, she looks healthier and beautiful. Though the procedure obviously improved her image, it took a toll on her popularity. She didn't reveal she had gone under the knife initially, and her fans were outraged, feeling that she wasn't honest towards them. We do think though that this surgery benefited her greatly.
ARETHA FRANKLIN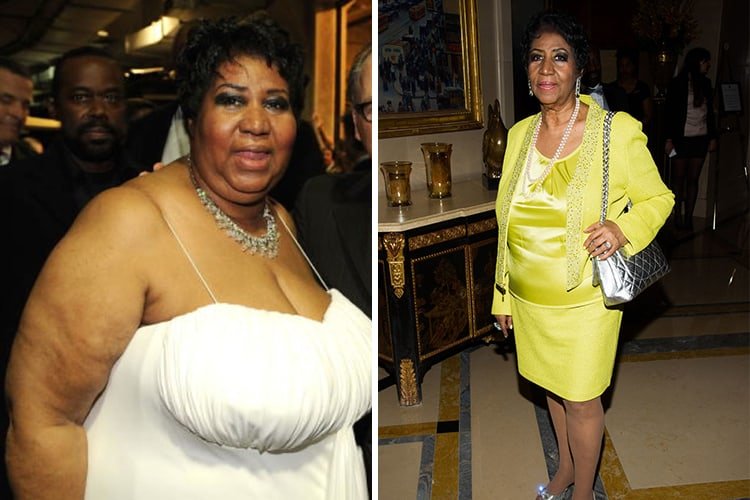 Resolving to turn her life around after she received some bad diagnosis, the now late diva Aretha Franklin lost almost 100 pounds. Through a rigorous regime, she managed to transform her body with no need for any procedures.
Despite her amazing weight loss, her excessive weight had already taken a toll. In August 2018, Franklin passed away, as she suffered from a pancreatic tumor. She had been touring until 2017, and she even intended to continue performing, against what was being advised in her current state. The world will forever remember Aretha Franklin.
KIRSTIE ALLEY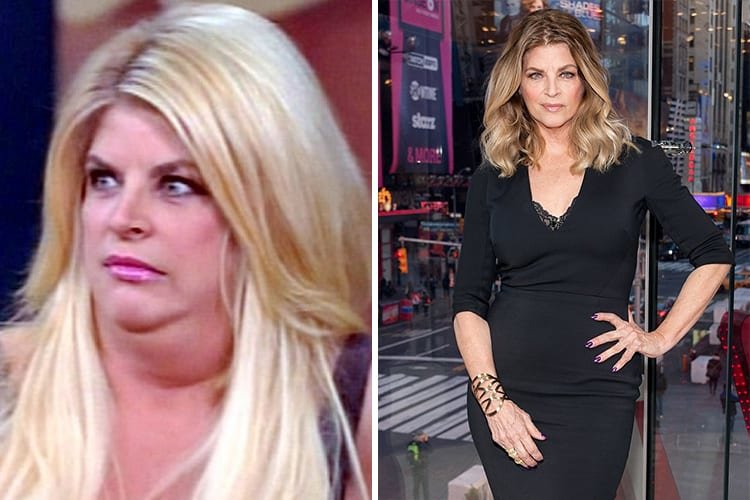 Unbeknownst to many, Kirstie Alley battled with weight loss for a long time. Deciding to do something about it (while maintaining a weight-loss show), she was able to shed pounds and follow a healthy lifestyle. She did it in an all-natural method. Good for you, Kirstie!
Reaching fame in her 30s, Kristie is still praised for her Star Trek II: The Wrath of Khan role. Her acting career grew exponentially, but she gained weight in the '90s, which sort of affected the roles she was getting. Although business was good, Kristie had to do something about it for the sake of her health, thus the transformation shown above.
CHRIS PRATT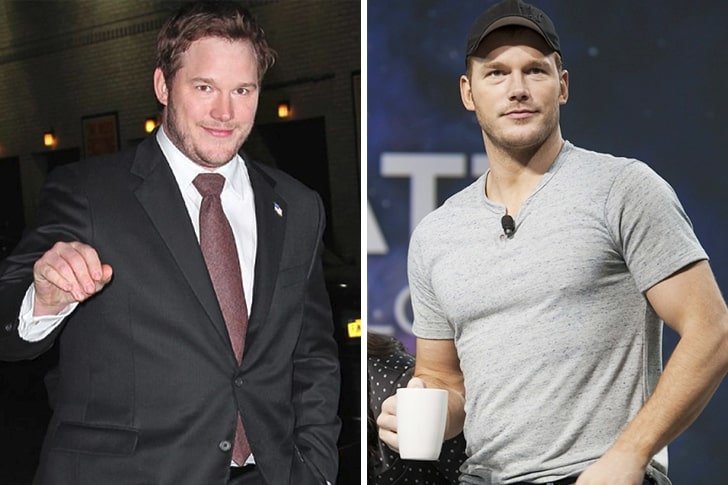 Before he became one of the Guardians of the Galaxy, Chris Pratt was Andy on Parks and Recreation. When he decided to get into shape, he adopted a very strict workout regime which helped him lose as much as 60 pounds in just six months.
Now, he is Peter Quill… err… we mean, Star-Lord. His new image helped him become a Hollywood hunk, and it wasn't long before he found an alluring lady to fall in love with. In 2018, he started dating Katherine Schwarzenegger, Arnold Schwarzenegger's daughter, and the pair eventually tied the knot in June 2019.
SETH ROGEN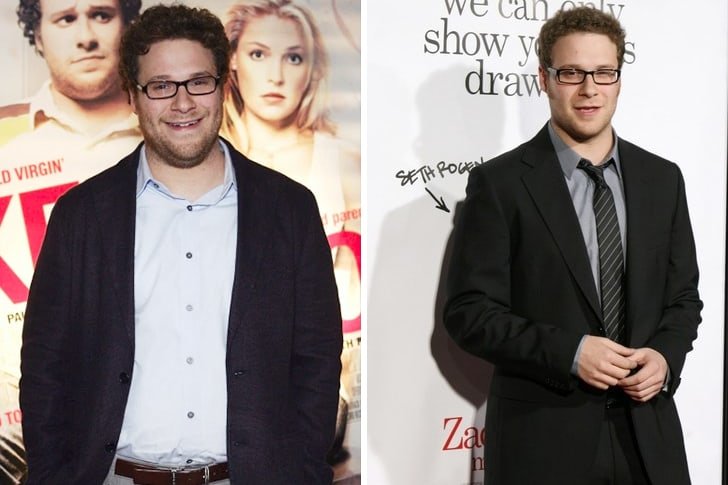 Seth Rogen became known as the chubby comedian, but after he landed the lead role in the Green Hornet movie, he needed to lose weight and gain some muscles. He went on a healthy diet and started working out, and was able to lose as much as 30 pounds.
Now, he can be one of Hollywood's leading men! However, Rogen mostly works as a producer nowadays, and his latest work was the 2019 film Good Boys, while in 2020, his newest film An American Pickle is awaiting release. He's been married to actress Lauren Miller since 2011.
Source: https://mortgageafterlife.com/trending/celebs-gastric-sleeve-surgery/