King Vajiralongkorn returned Sineenat Wongvajirapakdi's rank and titles on Wednesday, the Royal Gazette announced.
Sineenat was stripped of her rank in October 2019, only months after being named as the king's companion.
The palace had said that she was being punished for trying to elevate herself to "the same state as the queen".
Sineenat was the first royal consort for almost a century in Thailand, where the term refers to a partner in addition to the king's wife.
Last year's announcement also accused her of "misbehaviour and disloyalty against the monarch". She has not been seen in public since and her whereabouts have not been confirmed.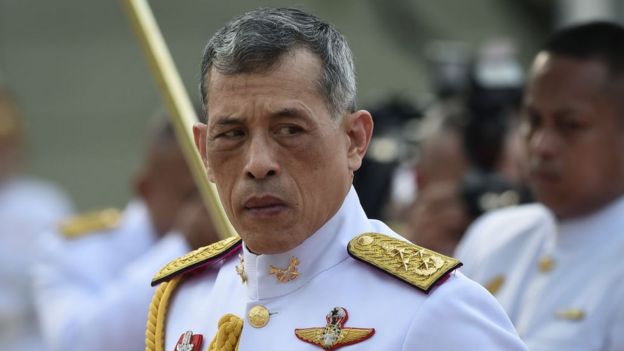 The king's latest decision means that "Sineenat Wongvajirapakdi is not tarnished", the Royal Gazette announced.
"Henceforth, it will be as if she had never been stripped of her military ranks or royal decorations."
Born in 1985, she is from northern Thailand and worked as a nurse before entering a relationship with the then-crown prince Vajiralongkorn.
She eventually became a bodyguard, pilot and parachutist, and joined the royal guards. In early 2019, she was appointed a major-general.
She received the official title of first Royal Noble Consort in July that year, shortly after the king married his fourth wife Queen Suthida, who had been the deputy head of his personal security detail.